Set against the backdrop of its iconic landscapes, the city has emerged as a destination where visitors can rejuvenate their minds, bodies, and spirits, indulge in a melting pot of cuisines from locally owned eateries, and explore a vibrant arts and culture scene with over 80 art galleries and numerous one-of-a-kind boutiques.
Driven by a mission to invite visitors to rediscover all that Sedona and the greater Verde Valley region have to offer, a coalition of over 70 local businesses and organizations such as the Sedona Lodging Council and the Sedona Chamber of Commerce & Tourism Bureau have recently joined forces to create the Sedona Verde Valley Marketing Alliance (SVVMA). Among many others, the businesses of the SVVMA include restaurants, art galleries, boutiques, and those in the health and wellness space.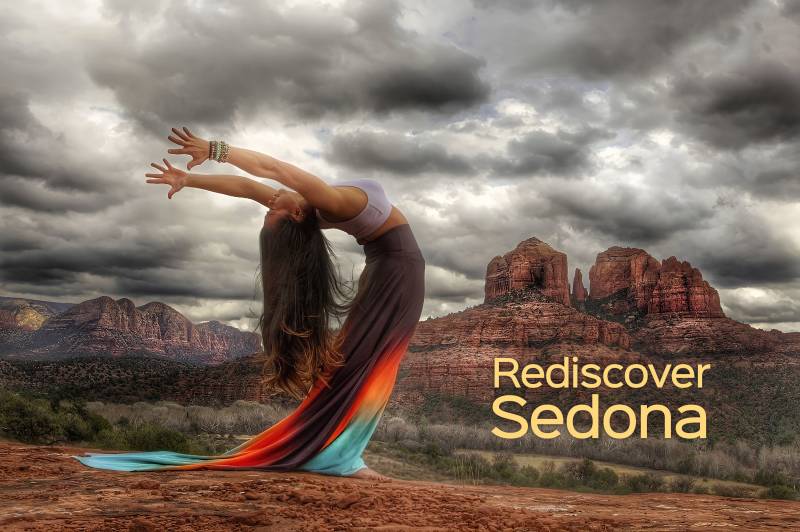 Wellness and Renewal in Sedona
With its world-renowned vortexes—or swirling centers of energy that invite self-discovery, meditation, and healing—Sedona has earned a reputation as a spiritual and metaphysical hotspot. Inspired by this energizing power, the city is home to some of the world's best healers, intuitives, and spiritual guides, as well as luxurious spas and retreat centers.
Wellness-oriented visitors will find a diverse array of activities, from yoga classes and guided meditations amidst the red rocks to massage and body work services to healing mediums such as reiki and acupuncture. Whether they're seeking personal growth and introspection or simply a relaxing day at the spa, a trip to Sedona is sure to instill in visitors a sense of clarity and serenity while nourishing their physical, psychological, and spiritual health.
A Creative Capital of the Southwest
Surrounded by Sedona's awe-inspiring natural beauty, it's easy to see why acclaimed artists have been drawn to this small desert city for decades. In 1946, Max Ernst—a surrealist painter, sculptor, and pioneer of the Dada Movement—moved to Sedona with his wife, painter Dorothea Tanning. Twelve years later, Egyptian sculptor Nassan Gobran and a group of local artists founded what would later become the Sedona Arts Center.
As the creative scene continued to expand over the years, Sedona is now home to numerous art galleries showcasing virtually every medium, including painting, sculpture, jewelry, photography, ceramics, woodcarvings and more. These galleries may be found throughout Uptown and West Sedona, as well as tucked away at other locations, such as an area along State Route 179 known as Gallery Row due to its high concentration of galleries.
Visitors seeking to immerse themselves in Sedona's thriving arts and culture scene should consider planning their trips to coincide with the first Friday of any month. As part of the First Friday in the Galleries art walk, several galleries host exhibit openings, artist demonstrations, and receptions featuring hors d'oeuvres, wine, and live music.
Unique Gifts, Collectibles and Other Treasures
In addition to Sedona's many art galleries, visitors will find a diverse selection of shops and boutiques. From antiques to thoughtful gifts to specialty items, such as gemstones and handcrafted Native American artistic pieces, Sedona is the perfect place to shop for one-of-a-kind items—many of which are locally made. Several of the city's boutiques are located in shopping centers such as Hillside Sedona or Tlaquepaque Arts & Shopping Village, an enchanting plaza where visitors can stroll along cobblestone walkways under the shade of towering sycamore trees.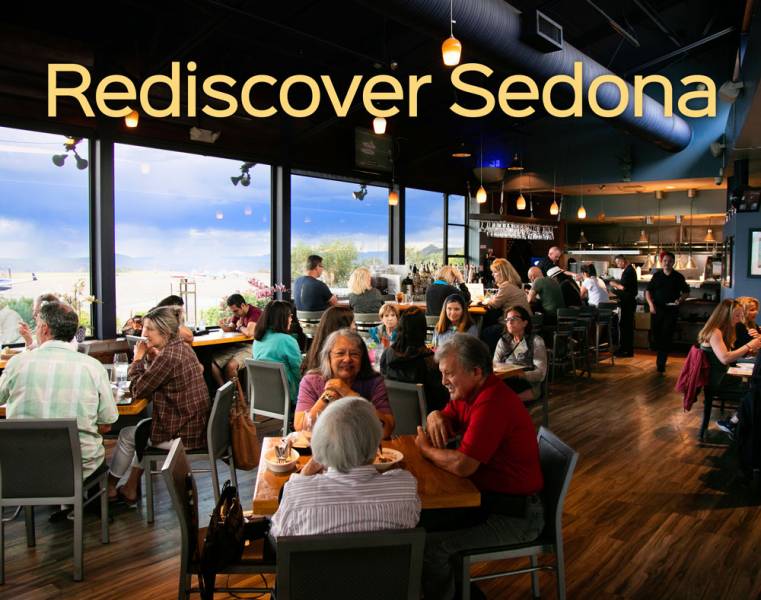 Savor a Melting Pot of Creative Cuisine
Just as artists draw inspiration from the area's beauty, numerous top chefs and restaurateurs have migrated to Sedona, where they channel their creativity into dishes that celebrate both regional and international flavors. From mouthwatering Mexican and Southwestern cuisine to healthy vegan dishes to prime steaks and seafood, Sedona's culinary scene offers something for every palate and price point.
In addition to an enticing selection of restaurants and cafes, visitors will find local craft breweries and fine wines from the Verde Valley. With its warm days, cool nights, and rich volcanic soil, the region produces several different grape varietals that have drawn praise from oenophiles nationwide. In 2021, the Verde Valley—which features over 20 wineries and tasting rooms—achieved the prestigious milestone of becoming a federally recognized American Viticultural Area (AVA).
Located just two hours north of Phoenix, Sedona is an ideal destination full of experiences to suit every interest, from wellness-related activities to artistic pursuits and more. Because of all that there is to see and do, we recommend staying a few nights to ensure the full Sedona experience. To learn more about the businesses of the Sedona Verde Valley Marketing Alliance and the initiative to "Rediscover Sedona," visit RediscoverSedona.com.