Article reprinted with permissions from Bites, Flights and Sights, John Compisi
Welcome to Part II, the second, and last, installment on our COVID escape to Sedona, Arizona in mid-April. This fabulous red rock country is about 120 miles north of Phoenix and a mere 30 miles from Flagstaff. It's a great escape location for outdoor lovers because of all of the activities available, in particularly hiking. Additionally, there are jeep tours, vortex tours, airplane and helicopter tours to the Grand Canyon and other significant sites. But if these types of activities are not your thing, Sedona has so much more. That is the point of this post to describe our dining, dalliances and other diversions we experienced while we were there.
View from Soldier's Pass Trail (L.Compisi)
First, I should say, April is a fabulous time to be in northern Arizona. The temperatures were very moderate, ranging from the 40's-50's Fahrenheit overnight and rising to the high 60's to low 70's F. during the day with nice gentle breezes, at least while we were there.
Motor Court of the Hilton Sedona Bell Rock (L.Compisi)
LODGING: We stayed at the Hilton Resort at Bell Rock in the village of Oak Creek, about 8 miles south of Sedona. Sedona is very expensive for lodging but Oak Creek offers numerous hotels that are a bit more budget minded and the Hilton runs at the top for amenities. As we said in Part I, our check in was seamless. Our room offered some great views and the amenities, although reduced due to COVID were well done. The multiple pools, fitness facility and spa were fully operational and well outfitted and when it came to adult beverages and our dining needs. Definitely recommend the Hilton as a destination, especially if you are a golfer. It is also close to the local wine country…more about that later.
The stairs leading to the Hilton Spa and Fitness Center (L.Compisi)
DINING: We had some wonderful dining experiences while we were there. (TIP: If you want to enjoy the most widely acclaimed restaurants, like Mariposa, make reservations at least a month out. They book up fast and we could not get in.) Here they are in order of our sequential enjoyment.
The Entrance to Open Range (L.Compisi)
Open Range Grill and Tavern is located in downtown Sedona in Sinagua Plaza. Open Range offers contemporary American cuisine alongside Cantina favorites in a relaxed environment sporting unbeatable red rock views. We dined on the patio while enjoying a delectable Margarita (Linda) and a chilled cerveza (me). The air temperature was warm and inviting and the service was good. The COVID restrictions were as you would expect although the dining room was full. We enjoyed the complimentary chips and salsa and then, because of the lateness of the evening, shared a very delicious quesadilla. Yum!!
Open Range Quesadilla (Courtesy Open Range FB – Edited)
The Hudson, at Hillside shopping center was established in the spring of 2015 by Mark and Lisa Shugrue. Their goal was to create a casual, upscale local neighborhood restaurant. The Hudson specializes in American food with great cocktails and wine in a fun atmosphere. They have succeeded, with the able assistance of Chef Jeff Storcz, who pairs authentic comfort food with genuine hospitality in an elegant manner.
We sat at the bar, as the wait was over 45 minutes. We actually love sitting at the bar to dine. It is usually quite interesting and the bartenders have great observations to share. Sometimes you even meet other friendly people in an open bar setting.
Salt and Pepper Crispy Shrimp (L.Compisi)
The Hudson has a full bar and quite an extensive wine list. We ordered cocktails (Cosmo anyone) and wine (a 2019 Napa Valley Pinot Noir from Pavette) for me. To start we selected the Salt and Pepper Crispy Shrimp which was visually eye popping and mouthwatering.
Amazing Thai Scallops (L.Compisi)
For our mains, I selected the Blackened Swordfish and Linda chose the Thai Scallops. We were both delighted with the presentation and the flavor profiles of these beautiful dishes. To complement my fish, I ordered a Sonoma County Zinfandel from Valravn, a Napa Valley producer. Good choice to pair with the blackening.
The Blackened Swordfish (L.Compisi)
Reservations are available via OpenTable, if you try early enough, and it is open daily for lunch and dinner.
A frosty Vodka Tonic on the patio at Creekside Bistro (L.Compisi)
We had both a lunch and a dinner at Creekside American Bistro, located in Creekside shopping center along Oak Creek. Creekside offers indoor dining or outdoors on one of their covered outdoor decks with spectacular Red Rock views. The food is fresh, delicious and well plated with a great server staff. After a tough hike we mostly consumed cocktails to recover. We selected the Tiny Tacos with choice of Carnitas, Smoked Texas beef brisket and/or Ahi Tuna Tartar for our light lunch. Perfect!!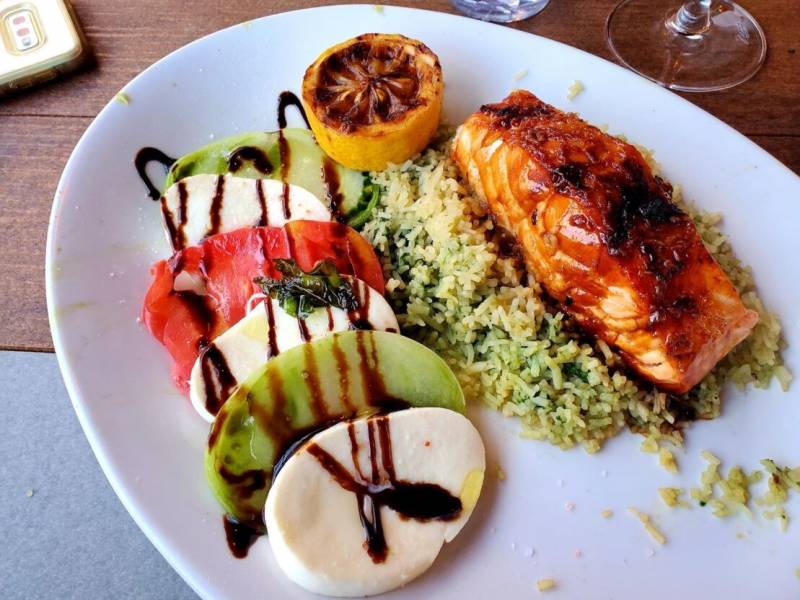 The Alaskan Salmon at Creekside (L.Compisi)
During our dinner outing there, I had the Alaska King Salmon and Linda had the Short Ribs. Both were well prepared, fresh and delightful. We were seated on the patio, highly recommended, and again enjoyed the Red Rock views at the sun was setting. Quite magnificent. Creekside is open daily for breakfast, lunch, happy hour and dinner. We enjoyed three out of four!
We had the good fortune to eat breakfast daily at the Hilton and enjoyed Happy Hour and one delightful evening including dinner and S'mores over a fire pit. Shadowrock Tap+Table Executive Chef Brandon Park displays a certain flair for Southwestern flavors, something we really favor. I've never had Dirty Potatoes with carnitas and an egg before. Now I can say that I've had it twice. The flavor profile offered a bit of kick and a wonderful spiciness. Visually it was very inviting. Linda really enjoyed the Coconut Oatmeal with crushed macadamia nuts and coconut milk. Think she enjoyed that twice as well. Our dining experience was equally delicious.
Enjoying wine around the firepit at the Hilton (L.Compisi)
Again, we were out on the large patio surrounded by the warmth of fire pits and the setting sun. We thought the Burrata starter sounded refreshing for this mid-Spring evening.
We were not disappointed. Linda couldn't resist the Scallops and I chose the Salmon…creatures of habit? Each dish displayed creativity, a sense of style, flavor layers and a sense of the importance of textures in culinary creations. The S'mores down at our own private firepit put a wonderous end to our escape evening.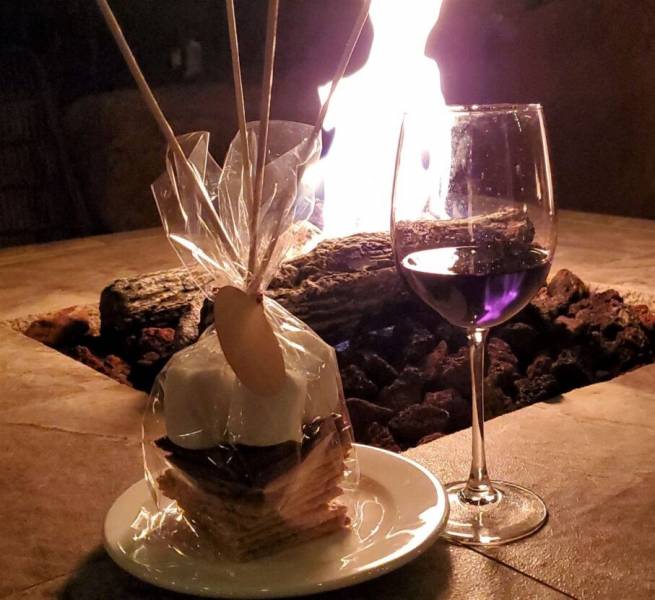 Thoroughly enjoyed the S'mores 'kit' at ShadowRock (L.Compisi)
On our last day in Sedona, we had time to visit Tlaquepaque, an authentically fashioned traditional Mexican village for some browsing and lunch before heading back to Phoenix. Tlaquepaque, meaning the "best of everything," has been a Sedona landmark since the 1970's and remains a delight including five restaurants like El Rincon Restaurante Mexicano.
We just wanted a light lunch and beverage but we were pleased to thoroughly enjoy their unique take on Quesadillas and their signature Margarita (I had a cerveza). El Rincon is a new favorite.
Unique 'Arizona Style' Quesadilla at El Rincon (L.Compisi)

Margaritas and Modelo at El Rincon (L.Compisi)
So, if you're not into hiking, eating or shopping, what else is there to do in Sedona? There is so much!! First, after hiking, we decided 90 minute massages were appropriate. We had read the reviews about Uptown Massage, and after comparing reviews, we decided they were the best bet. We had a great experience and highly recommend the team at Uptown Massage. Relief for sore hiking muscles and COVID stressed minds!
Our patio experience at Page Spring Cellars was memorable (L.Compisi)
Another experience we availed ourselves of, we are BitesFlightsandSights after all, was wine tasting in the vicinity of the Hilton. We had numerous choices but limited time so we chose Page Spring Cellars which was only about 20 minutes from our hotel. This is a virtual destination location. They offer winery and vineyard tours, tasting room experiences, a menu of small plates and pizza and more.
We waited to have a sit-down lunch while enjoying a flight of their wines (choice of a white flight, a red flight or a combo flight). These are not yet comparable to the wines of California, Oregon, Washington State or even Virginia in sophistication or nuance but they will certainly get there. As a volunteer and judge at the San Francisco Chronicle (North American) Wine Competition, I know how wines from outside the usual suspects can evolve and improve given time, improvements in grape growing, varietal selection and winemaking talent. We recently were very impressed with some wines from New Mexico, and know that Arizona only needs time to find their niche in terms of varietals that can achieve success.
One of numerous varietals produced by Page Springs Cellars (L.Compisi)
The Sedona area is going to get there. No doubt, the other wineries (5 in the immediate vicinity) offer equal amenities. So, wine tasting rather than not hiking is possible in Sedona!
If these activities are not for you, you can golf, tour the Grand Canyon, take Jeep tours, find your favorite vortex or go to Flagstaff. All within reach of Sedona.
From left, the photographer and the writer, reflecting at Creekside (J.Compisi)
In summary, Sedona is an outstanding destination for anyone and virtually any season for Dining, Dalliances and Diversions!