Cinco de Mayo is fast becoming a hugely popular celebration from Mexico and Tlaquepaque Arts & Shopping Village will be fully decked out to celebrate this historic day in grand style. This year Cinco de Mayo will take place on Saturday, May 1, 2021 from 11 am to 5 pm. The day will be filled with vibrant expressions of Mexican culture including folklorico dancers in dazzling costumes, phenomenal flamenco dancing from South of the Border that brings thunderous applause every time, hot Latin vibes, and the ever-popular roaming Mariachis.
All are welcome at the annual festival celebrating Mexico's rich culture and heritage.
Admission is free and there will be free trolley shuttle service from the Church of Latter Day Saints to and from Tlaquepaque from 10 am to 5 pm.
Cinco de Mayo, which translates as the Fifth of May, marks Mexico surprise 1862 victory over the French at the Battle of Puebla during the Franco-Mexican war and its eventual independence.
Entertainment Schedule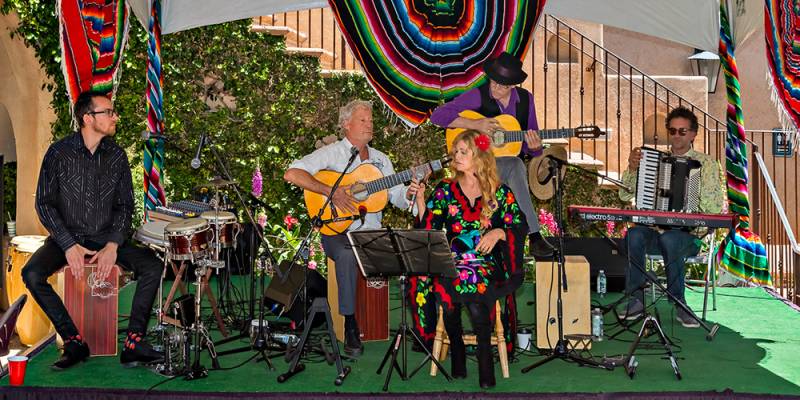 Gaetano Mosaico Flamenco, 11 am to 2:30 pm in Patio Del Norte
These high-energy flamenco dancers give it all with passion and devotion to the art, exciting their audiences to the point of happy exhaustion just watching them perform! Backed by high-spirited musical accompaniment, you'll want to be sure to catch one of their performances.
Jaleo Latin Music, 3 pm to 5 pm in Patio del Norte
An amazing highly polished, skilled and versatile group of musicians specializing in Latin Music. Jaleo covers the widest variety of Latin styles including Salsa, Latin Jazz, Cumbia, cha cha cha and so much more!
Ballet Folklorico de Colores, Performance at 11 am, 1 pm and 3 pm in the courtyard at Tlaquepaque North
Beautiful costumes in swirls of color and charming choreography will delight audiences as these multi-aged, talented dancers express their traditional stories and folklore in dance. Look for the youngest dancers. They are beyond adorable!
Mariachi La Familia Rojas, 11 am to 3 pm, performing throughout Tlaquepaque and Tlaquepaque North
And for a little nostalgia, enjoy the classic sounds and favorites by the Mariachi La Familia Rojas who will roam the streets of Tlaquepaque. This troupe clearly enjoys performing and they quickly gather crowds as they meander the property.
Ritmo Latino, 11 am to 3 pm in Patio de Las Campanas
Tlaquepaque favorite, Ritmo Latino will be on hand with the sensuous sounds of acoustic guitar and saxophone, the sultry rhythms of Latin percussion, and the vocals of Andres Martinez. Don't be surprised if you feel compelled to bust a move or two!
Eric Miller, 3 pm to 5 pm in Patio de Las Campanas
Eric Miller is a romantic Latin guitarist, and a local favorite! After traveling throughout France, Italy, England, Ireland, and Brazil – Eric learned each nation's beautiful music. It was when he arrived in Spain that he fell in love with the art of flamenco. His passion for flamenco guitar stayed with him when Eric returned to the United States, where he continued to study and perform. Eventually, he was drawn to the music of Brazil and immersed himself in the bossa nova and samba, adding Brazilian Jazz guitar to his ever-growing World Music repertoire.
Activities for the children include free face painting, 11 am to 5 pm and an opportunity to paint your own wooden snake or little maraca in Patio de las Campanas, 1 pm to 5 pm
We continue to work on providing you with a safe and clean environment. We request that you follow the local guidelines and those recommended by the CDC to ensure everyone's health and safety.
Home to more than 45 shops and galleries and four restaurants, Tlaquepaque, the Art and Soul of Sedona, now in its 48th year, is located at 336 AZ-179 and 313 AZ- 179 in Sedona, Arizona. It is open daily at 10:00 am. For more information call (928) 282-4838, visit: tlaq.com.