"It's a little, wonderful paradise, where the river is the maestro, nature the musician and all together they play a peaceful harmony at the Briar Patch," remarked a guest visiting from Paris.
Nestled in between the mighty oaks and the towering sycamores in Oak Creek Canyon, lies a nine-acre Bed and Breakfast that has been named "One of the 25 Best Romantic Weekend Getaways in Arizona" and since 2011, ranked #1 according to AZ Big Media.
This year [2023], Briar Patch Inn celebrates its 40th anniversary.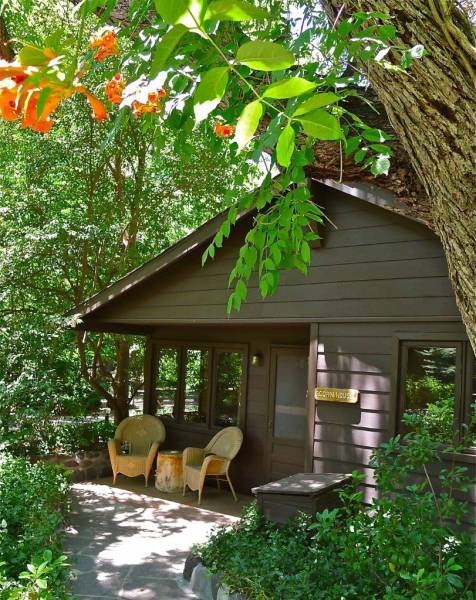 Briar Patch Inn owners JoAnn Olson, and her son Rob, take special care of guests upon their arrival.
Check in at the main lodge, and immediately you will be transported to another time and place. Breakfast is served daily — and the owners pride themselves in acknowledging the recipes are the culinary creativity of its innkeepers, Briar Patch "chefs" and one recipe has originated as far away as South Africa.
Afterward, guests can sit by the fireplace, read a book, play board games or sit by the creek and "nurture your relationship with nature!" — a Briar Patch moniker.
The gift shop is filled with hand-selected Native American merchandise by the Olson's. You will find jewelry, pottery and unique gifts created by families that they have known for years.
Outside, guests can roam the acreage. Here you will find a menagerie of animals including Briar Patch mascots, Rosie and Posie. The roaring of Oak Creek provides a relaxing, magical atmosphere which is rarely found in desert terrain.
Throughout the property, 19 cabins are named in honor of different bird species and trees. It is an ode to nature — it's what Briar Patch Inn is all about.
These cabins are "rustically elegant," most have fireplaces, while others have different unique features. They are listed as "cozy and romantic."
There are no TVs, Internet, telephones, or technological interruptions — it's a much needed disconnect from the digital world.
"We are a very environmentally conscientious property. We do recycle as much as possible. The guests who come here are generally sensitive to the principles of Leave No Trace and we have signage by the creek that explains about the sensitive nature of Oak Creek," Olson said.
As a small token, each guest receives a tiny wooden box filled with six Worry Dolls. Inside the box, a note says, "Please accept this small token from Briar Patch hoping you can leave your worries behind."
According to legend, Guatemalan children tell their worries to the Worry Dolls, placing them under their pillow when they go to bed at night. By morning, the dolls have gifted them with the wisdom and knowledge to eliminate their worries.
Briar Patch Inn is a 10-minute drive from Uptown Sedona. To learn more about Briar Patch Inn, Visit briarpatchinn.com.