Explore our rich and unique history.
Sedona has a "History Walk" – a self-guided stroll through art, cinema, history, geology and nature… a scenic sojourn among restaurants, shops and galleries. Find yourself on Sedona's walking web map. Easy to use on your cell phone! (WalkSedona.com)

Early History & Sedona Facts
In a rather bizarre manner, the history of this area does not have its roots in Sedona, which T.C. Schnebly named after his wife in 1902. Instead, the story had its beginning in Oak Creek Canyon, where Glenn Kilbourne and Carley Burch, the main characters in Zane Grey's The Call of the Canyon, lived and loved under looming, stone walls and whispering pines.
Long before Grey hunted, fished and wrote in the wild and lonely canyon, however, the first settler to heed the call, J.J. Thompson, claimed property under this country's 1862 Homestead Act. In 1876, Thompson took squatters rights to a parcel of land across from today's Indian Gardens Store, where a year earlier, scouts from Fort Verde now, Camp Verde, had captured a small band of Tonto Apache Indians.
When Thompson took his land, he found the Indian's deserted gardens and a healthy spring, which encouraged him to build a log cabin. He called his home Indian Gardens Ranch, but later he shortened it to Indian Gardens. After Thompson homesteaded in the canyon, more settlers heard the call, and they came to raise horses and cattle. They dug irrigation ditches so they could plant crops, too and in particular, they established orchards. During the ensuing decades, trails and cowpaths in the canyon became dirt roads, and this attracted more people.

Early Farming & Irrigation Systems
One of these early residents was Frank Pendley, who became the most notable farmer in the history of Oak Creek Canyon because his pioneer spirit and engineering skills enabled him to construct an innovative irrigation system. He succeeded where many others had failed to the extent that his apples and pears were sold at markets in Jerome, Cottonwood, Phoenix and Los Angeles. Fact is, Pendley's irrigation system still is used at Slide Rock State Park, site of his early homestead.
South of J.J. Thompson's newly named Indian Gardens, the Abraham James family earned the distinction of being the first residents of this immediate community, which was destined to be called Camp Garden, and then Sedona. James, his wife and son moved here in 1879, and apparently James is the guy this community can thank for making it a popular tourist attraction more than 100 years later. Yes, James was a prolific originator of place names especially for this community's spectacular red-rock formations.
However, Dr. Jesse Walter Fewkes of the Smithsonian Institute also deserves credit, because after naming the two largest cliff dwellings in this area Palatki and Honanki in 1895, this archaeologist predicted that Red Rock Country would become extremely popular with tourists.
As for James, according to records left by old-timers, he named Bell Rock, Steamboat Rock, Court Rock and Church Rock. Years later, Court Rock and Church Rock became Courthouse Rock and Cathedral Rock, and the names were reversed with regard to the rock formations.
During the same year that Thompson settled in Oak Creek Canyon, 1876, Beaver Head Stage Station was built near Dry Beaver Creek, 12 miles south of what now is Sedona. This station was located on the very old road from Winslow to Yuma, which branched off the route of what was to be the Santa Fe Railroad and Hwy 66. Later, a rough road extended from the stage station to Big Park, which was named Village of Oakcreek in 1968. Here, the road continued north to the area that was to be Sedona, and it also branched west to Red Rock, a settlement on Oak Creek best described as the area between what was to become known as Red Rock Crossing and today's Red Rock State Park.
John Lee settled near the crossing at the same time as Thompson claimed land in Oak Creek Canyon, and Margaret Ann Jackson made 1876 an even more significant year in this areas history when she became the first white woman to live on lower Oak Creek. Also, Henry Schuerman acquired a 160-acre farm south of Lee's property, where the state park is located, in 1884.

How Sedona Got Its Name
As the story of this community's early history goes, T.C. and Sedona Schnebly were attracted to Upper Oak Creek or Camp Garden both names were being used at that time. Strangely, these names were totally appropriate because during the past 100 years, unnumbered families and individuals have been drawn here by the raving descriptions of friends and relatives. In the case of T.C. and Sedona, it was T.C's brother, Dorsey Ellsworth Schnebly, who discovered Red Rock Country while seeking an ideal climate and atmosphere for his health. According to the recorded testimony of Ellsworth Schnebly, son of T.C. and Sedona, his uncle was inspired by the discovery of towering red rocks interfused with forested greenery, as well as vast acreage surrounded by meandering, clear Oak Creek.
Having purchased an 80-acre site from Frank Owenby after traveling from Kansas in late 1901, T.C. constructed a handsome house with two stone fireplaces near the location of present-day Los Abrigados Resort and Tlaquepaque Arts and Crafts Village. And when residents of this small settlement complained to T.C. about slow and infrequent mail service, he immediately filed an application for the establishment of a post office.
Various reports indicate that T.C. suggested calling the post office Schnebly Station, then Red Rock Crossing and even Oak Creek Station and most of these reports state that the names were not accepted by the government because they were too long to fit on a cancellation stamp. Subsequently, T.C's brother, Dorsey Ellsworth, thought of submitting the name of T.C's wife, Sedona. And after telling T.C. that in the person there was a character that would stand well as a symbol for the community, he turned to Sedona and said, You're going to have a town named after you.
Postal officials approved the name Sedona, and on June 26, 1902, the post office was in business in the back of the Schnebly home.
To learn more about Sedona's rich and unique history, visit The Sedona Heritage Museum to hear these stories and many others about local Sedona history.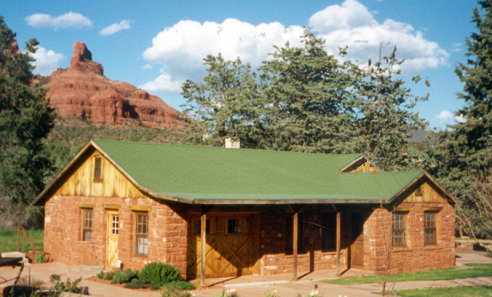 On the National Register of Historic Places. Features local pioneers, cowboy life, orchard industry, wine-making heritage, arts history,…