Sedona is one of the most beautiful places on Earth, which means it rarely disappoints travelers. Here are the top 10 things to do this spring in Sedona, Arizona.

1. Go hiking or biking. Sedona is known for its hiking trails that wind through the area's famous Red Rocks, with routes for amateur hikers to seasoned climbers. A good starting point is Red Rock State Park's trailhead, which gives hikers a relatively easy trek though the area. For a more challenging hike, visit Schnebly Hill Road for a rugged landscape and hilly terrain. Hikers can also join group hikes organized by Sedona Trail Zen, and you can visit The Hike House to find any essential hiking gear you may be missing as well as maps of nearby trails. Mountain biking in Sedona is not for the faint of heart. Seasoned bikers come to Sedona year after year for its challenging terrain, but relatively novice mountain bikers can rent from Absolute Bikes and Thunder Mountain Bikes. Both locations provide maps of nearby mountain biking trails from small rugged landscapes to challenging hilly spots. For first-timers, Over the Edge hosts its own tours to accommodate your skill level and take you on less-daunting routes.
---
2. Take an ATV ride. You can explore the canyon by foot, or you can speed things up a little on an ATV. Rent an ATV from Arizona Offroad Tours to explore the outback of West Sedona Canyon. If you're traveling in a group, organize a group tour with a trained guide who can take you on some of the area's most scenic routes, including to the top of Skeleton Bone Mountain (800 feet above the valley floor). Tours can last up to three hours. For a more spiritual adventure, book a tour with Vortex Healing ATV Rental and explore places like Shaman's Cave and Soldiers Pass.
---
3. Kayak the Verde River. This is the desert, yes, but the Sedona area features the Verde River, with beautiful, lush vegetation along the riverbank. It's a popular spot for kayaking, with willow trees providing shade for paddlers. In some areas, the river has some challenging riffs and ripples to make the ride a more exciting one. Rent a kayak from Clarkdale Kayak Company and go it alone, or enlist the help of a guide who can take you to interesting places along the riverbanks, like the 900-year old ruins of the Sinagua People. Verde Adventures is another riverside rental company to consider for guided tours.
---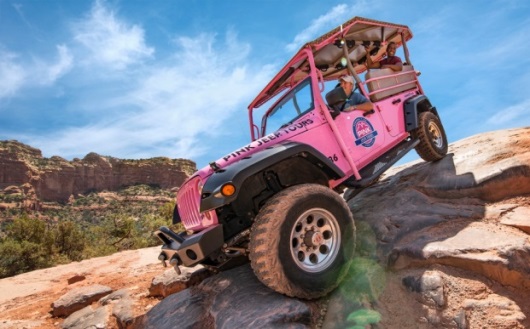 4. Take a jeep tour. There's a reason jeep tours always land at the top of a "must do" list for visitors to Sedona. Nothing beats that sense of adventure during a jeep tour through the Red Rock canyons. There are lots of providers to choose from. Pink Jeep Tours, for example, take riders though hilly landscapes like Submarine Rock, Chicken Point and Mushroom Rock in a bright pink jeep. Go wild on an Arizona Safari Jeep Tour to see local wildlife, or combine your sense of wild adventure and meditation through Earth Wisdom Tours.
---
5. Go horseback riding. Take a ride off the beaten path on horseback with Horsin' Around Adventures. Go horseback riding through the vast Sedona Red Rocks and gorgeous landscape Plan a wine country tour or a Lasso-a-Lunch tour, where riders will receive a picnic break in a meadow. For an authentic cowboy experience, book the Saddle n' Supper ride, where riders will stop in a ranch for a cowboy-style dinner.
---
6. Go sightseeing by air. View the Red Rocks from above on an air tour. Red Rock Balloon Adventures takes you up and away for an early morning hot-air balloon ride, where you can watch the sunrise in mid-air and watch the breathtaking sky turn pink then yellow as it touches the red canyons. The ride will take you over the Coconino National Forest. If you don't want to float in a hot-air balloon, helicopter ride tours are also available.
---
7. Play a round of golf. There's nothing like teeing off with the Red Rocks as your backdrop. Sedona Golf Resort is rich in green scenery surrounded by the canyons, making it one of the most picturesque golf courses in the world, receiving a four-star rating from Golf Digest. Other award-winning golf courses in Sedona include Oakcreek Country Club, Canyon Mesa Country Club and Seven Canyons Golf Club.
---
8. Visit local art galleries—by foot. Sedona is a well-known arts destination in the Southwest, home to over 80 galleries and art shops that showcase the area's charm. The best way to see these galleries is on foot, because nothing is too far in Sedona. Sedona Gallery Art Walk guides highlight many of Sedona's top galleries within walking distance of one another. One guide features West Sedona, which is home to five distinct art galleries. Another guide focuses on Uptown and Gallery District areas, featuring 25 different galleries to explore.
---
9. Locate the public art around Sedona. There's no need to leave the city to get your sense of adventure. Instead, go on a hunt for public art installments scattered around Sedona. The city prides itself on its artistic community and invites sculptors from around the world to install their masterpieces in prominent landmarks. The sculptures can be found in popular spots like Sedona Public Library, Arroyo Pinon Botanical Park and Sedona Heritage Museum.
---
10. Check out more ideas for things to do this spring and beyond in Sedona on our blog.