We are knocking on October's door, and that is a special time in Arizona. Despite the fact that I'm a spring and summer man at heart, I think October is the perfect month for Arizona hiking and exploration in general. There is no corner of the state that isn't welcoming this month.
The red rock country of Sedona is bathed in angled light and blessed with warm, still days and cool star-laden nights. Weather is idyllic at Grand Canyon's South Rim and you can still visit the North Rim if you hurry before things start to close on Oct. 15. Swimming holes in the Verde Valley are quiet again so it's a perfect time to hike back to those peaceful creeks. Bring a trash bag with you so you can tidy up a bit from the onslaught of summer revelers. It's still warm enough to kayak or paddleboard on Arizona lakes, or lay out on a white sand beach dotted with palm trees on Arizona's West Coast. Even the tall cactus deserts, sizzling for so many months, are soothed by October's cooling touch. You can walk happily among the saguaros again.
Of course, the big show occurs high on the mountain slopes where aspens are ablaze. If you're worried about whether this summer's drought will impact our fall color season, the answer is no, probably not. Unless it's yes, maybe a little. I explain it all in my story about this year's fall forecast, with the help of some experts. You can read it right here.
And if you'd like some ideas on the best places to see fall colors over the next couple of months, check out my article on beautiful autumn drives and hikes, right here. Arizona may not be known as a leaf peeping hotspot but we know how to make it last. I'll bet we have one of the longest seasons around. You can find changing leaves from late-September through mid-December if you know where to look.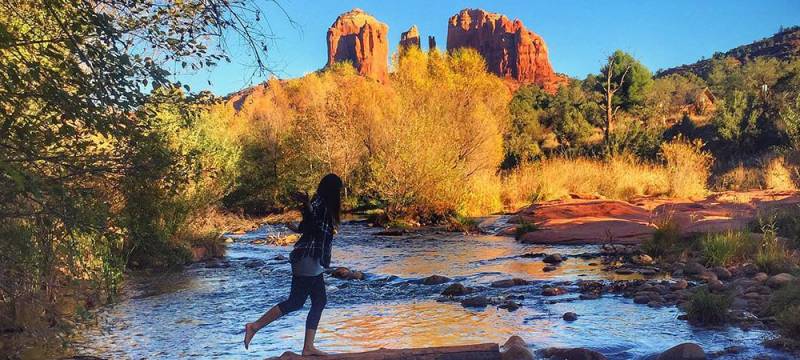 Don't forget, you can purchase a signed copy of all of my books, including the award-winning Arizona State Parks (did I mention it won an award?) from my website right here. Or on my Author page on Amazon right here. And many of the books are available at your neighborhood bookstores. Support local businesses whenever you can.
Also, be sure to watch our Leaf-ometer on the home page of VisitSedona.com.