This is a great article by Katie Soltas, posted online at OTL: A Magazine for the affluent Texans.
The global pandemic has left much of the world with the desire to hit the "reset" button in 2020. This feat is quite possible in Sedona, Arizona, thanks to its fabled significance as a place of healing energy and new beginnings. The isolated, desert town of only 10,000 people is surrounded by the protected Coconino National Forest in the Verde Valley, just two hours north of Phoenix.
Once you arrive in Sedona, there is a magnetic energy among the natural rust chimney rocks, open blue skies and green vegetation that beckons you to find renewal in nature. It's a well-known fact that Sedona's luxury spa and wellness industry has grown within the last 20 years, but many are not familiar with the metaphysical and scientific explanations behind this development.
Sedona's New Age movement began in the 1970s as the theory of the healing vortex meditation sites was introduced, bringing in psychics, spiritual healers and natural medicine practitioners from all over the world. The four major vortexes in Sedona are Boynton Canyon, Cathedral Rock, Bell Rock and Airport Mesa, and all are accessible by hiking and mountain biking trails ranging from easy to difficult.
Vortex sites are defined as enhanced energy locations that facilitate prayer, meditation, mind/body healing and exploring the relationship with your soul and your divine, according to Pete A. Sanders, Jr., founding board member of the Sedona Metaphysical and Spiritual Association. A naval veteran and Massachusetts Institute of Technology graduate in BioMedical Chemistry and Brain Science, Sanders moved to Sedona in 1980 and founded the nonprofit, Free Soul, which shares skills to help people be their own best teachers and harness self-discovery.
For skeptics of the New Age theology, scientific theory behind Sedona's healing qualities is more relatable and lies within its color palette. Sanders explains that the neuro-stimulating red rocks enhances creative thinking and problem solving; the green cacti, agave and pines provoke a sense of hope and renewal; and the vast blue skies and winding creeks of the region incites a soothing feeling of serenity and purpose.
The luminescence of Sedona's night sky rivals its vibrant daytime color phenomenon. "You can actually see the Milky Way at night, as Sedona is part of International Dark Sky Cities," said Sanders. "All the streetlights point down, which reduces the light pollution and allows people to have that sense of timeless wonder seeing the heavens."
Although the vortex theories are relatively modern, the idea of Sedona as a sacred setting is literally carved in ancient history in cliff dwellings, dating back to the sixteenth century by indigenous people of the Sedona region including the Hopi, Navajo, Western Apache, Havasupai and Yavapai nations. There is evidence in local petroglyphs to show that natives would perform religious ceremonies in the Sedona region and its vortex sites but lived in a ring-like pattern around the area out of respect for its spiritual power, as told to OTL by local cultural specialists.
To view cliff dwellings and rock art, Sedona guests can visit Coconino National Forest Red Rock Ranger District Heritage Sites such as the Palatki Red Cliffs Heritage Site and the Honanki Heritage Site Cliff, and Verde Valley National Monuments including Montezuma's Castle.
Modern day resorts, destination spas and golf clubs aim to share the beauty and benefits from these natural landscapes in Sedona. From the creeks to the canyons, Sedona's top resorts take guests to the source of the healing energy, beginning with Enchantment Resort in Boynton Canyon, one of the most powerful vortex sites.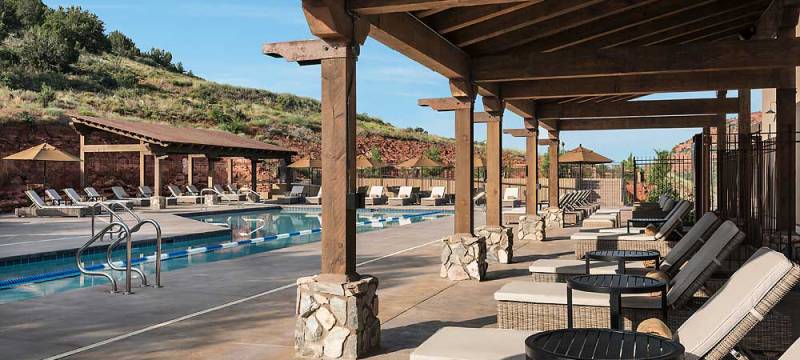 Enchantment Resort is about a 15-minute drive into the town of Sedona. Built in 1987, Enchantment recently completed a refresh to its 218 guest rooms and well-appointed suites with private decks and fireplaces with new furnishings and décor to embody an authentic Southwestern flair.
The resort's signature restaurant, Che Ah Chi, translates to "red rocks" with panoramic vistas of the canyon with floor-to-ceiling windows. The Southwestern and indigenous-inspired menu created by Executive Chef José Martinez features regional game options and local produce from Native American farms with flavors of the Verde Valley such as bison with heirloom carrot dumplings and corn fritters. Che Ah Chi pairs these plates with an advanced sommelier-crafted wine list and cocktails like the Pink Cadillac, a Sedona twist on a prickly pear margarita.
This summer, Enchantment also finished construction on a 4,000 square-foot Trail House within its Adventure Center where guests can take advantage of the resort's location nestled in the Coconino National Forest. With guides on hand to act as adventure concierges or private tour guides by request, guests can first learn about the history of Boynton Canyon, its terrain and wildlife, and then hit the trails via mountain bike or on foot. A full bike shop is equipped to prepare athletes of every level.
For golfers in pursuit of their version of self-renewing greenery, Enchantment has a relationship with Seven Canyons Golf Course – exclusive to resort guests and its high-end community residences. Founded in 1961 and designed by PGA champion and noted golf course architect Weiskopf, the red rock views are unrivaled on this award-winning 200-acre course.
Travelers who seek a luxurious and relaxing experience after a long day on the trails or fairways will relish the crown jewel of Enchantment: its destination spa, Mii amo, which translates to "one's path or journey." For utmost privacy, this wellbeing center is only open to Enchantment guests and those who book a "journey," or a three-night minimum stay in one of the center's casitas.
Mii Amo interweaves the cultural importance of Boynton Canyon and its tale of the mystical Kacina Woman into its treatments and ambiance. According to Yavapai-Apache legend, a daughter of a tribesman was placed in a hollowed out log to protect her from a prophesied destructive flood. Her log stopped in Boynton Canyon, where is where life is said to begin again.
"The Canyon walls reflect an unwavering sense of strength that is the same strength found in all of us," said Jim Root, general manager at Mii amo. "Sometimes we misplace or let people borrow that strength, and the Canyon can be a place of renewal." He continued, "Mii amo welcomes people who desire to seek inward and explore some of these feelings and emotions of uncertainty and receive all that is here for them."
Enchantment's rates range from $565 to $625 throughout the year. Visit Enchantmentresort.com for more information.
Situated on the shores of meandering Oak Creek is L'Auberge de Sedona, within walking distance to Sedona's famed shopping and dining district, Uptown. This creekside haven is ideal for the epicurean traveler to escape in quiet reprieve with luxurious amenities and life-enriching experiences including in-house artist viewing, daily yoga and wildlife feedings.
"Designed to enhance guest interaction with nature instead of detracting from it, our property seeks to honor and accentuate natural beauty in every possible way," said Tobby Rau, general manager at L'Auberge.
The resort was originally built in 1984 with a dozen cottages on the creek banks that were once home to an apple orchard, with some of the trees still intact today. L'Auberge's signature restaurant, Cress on Oak Creek, sits upon property that was adjacent to Sedona's first homestead started by Frank and Nancy Owenby in 1893 – talk about farm to table! The elegant waterfront eatery, led by Executive Chef Frank Desplechin, offers a romantic and peaceful atmosphere with wine-forward, Southern-European cuisine. While the acclaimed sommelier-composed wine list pulls diverse, high-quality wines from all over the world, Cress also supports Arizona's ever-growing wine scene from wineries in Verde Valley (just 25 minutes away) and the state's southern wine regions in Cochise County and Sononita.
The resort has grown over time, now home to 62 free-standing suites and cottages throughout 11 acres with private soaking tubs, outdoor showers, expansive decks and private entrances. A main lodge houses 21 guest rooms all with their own private deck or balcony, plus a shared pool with a jetted hot tub and an art gallery for guests to enjoy, curated by the Goldenstein Gallery.
L'Apothecary Spa at L'Auberge offers an assortment of spa services, with the most intriguing being the Quiet Mind treatment, in which the therapist works with the guest to learn breathing exercises that will allow the guest to truly quiet their mind and focus on relaxation.
In the past, L'Auberge has also hosted geologists and vortex experts on-hand at the resort to grace guests with their knowledge, but this has paused at press time to focus on guest safety following the pandemic. Resort leaders hope to resume these activities in the future. Nightly rates range at L'Auberge from $300 to $1,600 depending on the season and type of accommodation.
L'Auberge does not have an official golf partnership but works with top golf courses in the area such as aforementioned Seven Canyons and the Sedona Golf Resort, located just minutes away from Oak Creek. With a sweeping backdrop of two vortex points, Cathedral Rock and Bell Rock, the par 71 course is as challenging as it is stunning. The championship Troon course is widely considered one of the world's most unforgettable golf experiences.
"Our signature hole is number 10 and is considered 'the most photographed par-3 in the Southwest' but my personal favorite is (hole) number six," said Jeremy Hayman, general manager at Sedona Golf Resort. "It is an unassuming uphill par-4, but when you get to the green, turn around and look back toward the tee box, it is one of the greatest views in Sedona. Period."
In contrast to its visitor numbers, Sedona hasn't grown much in population over the last several decades, as the protected forestlands encompassing the town limit suburban sprawl. But Sedona has undergone major self-improvement and has built upon its foundation. The town's economy capitalizes on its strengths including art, culinary experiences and unique boutique concepts. Small, independent businesses thrive here, from art galleries, spiritual healing services and fine jewelry stores to breweries, wine bars and souvenir shops.
Although locals are happy to welcome guests back after the pandemic slowed the tourism business down, they encourage everyone to show stewardship for the land. Over-tourism, especially among the vortex sites, can create challenges. To take the path less traveled, check out SedonaSecret7.com for a list of local favorite hiking and biking trails, compiled by the Sedona Chamber of Commerce & Tourism Bureau (SCC&TB).
The community is in the process of connecting 420 miles of trails in the rugged landscape surrounding Sedona as well as enhancing transit and multi-modal access around the town – including access to public art. Sedona touts an impressive number of resident artists, according to Jennifer Wesselhoff, president of the SCC&TB.
"People are drawn to Sedona for the beauty and that emanates through their art including performance, visual art, creative writing and more," said Wesselhoff. "The wellness and artistic side of Sedona are so intertwined, and began with the native tribes who left their artwork on the sandstone formations surrounding us."
By Katie Soltas