Centrally located, Native American owned and operated, full service Eco-Friendly Spa & Salon offering you the best from locally crafted natural and organic products. Start your getaway the right way at our Spa with our experienced staff! Call 928-203-5982 to book!
Handicap-Accessible : ✔
Holidays Open : ✔
Locally Owned : ✔
Minority Owned : ✔

The Spa at Poco Diablo
A luxurious head-to-toe Spa Day!
Start with a relaxing 1hr Swedish massage to soothe the muscles, with your choice of an integrated Moisturizing Scalp Massage or a Sage Foot Scrub.
Continue with a 1hr Hydrating Facial including a deep gentle cleanse, a nourishing mask and a toning face and neck massage which will leave you with youthful glow.
Finish your day with an Express Manicure and Pedicure, or a Shampoo and Style!
Call 928-203-5982 or email thespa@pocodiablo.com to book.
Coupon Provided By:
Visit Sedona
| Valid Through: 01-10-2018
Print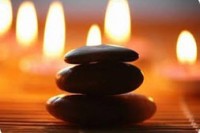 The Spa at Poco Diablo
Enjoy this 2hr delectable treat with an Essential Oil Wrap and Hot Stones Massage. Your skin is gently exfoliated with a loofah. The brushing is followed by a Hot Stone massage using your chosen blend of aromatherapy oils.
You are then cocooned in a warming wrap to soak in the healing properties of Aromatherapy. While wrapped, healing and anti-aging Propolis Ointment is gently applied to your face. As a final touch, your feet are massaged with the healing Bee Balm Cream to protect and soothe.
Coupon Provided By:
Visit Sedona
| Valid Through: 01-10-2018
Print