Remote Working - The View's Better From Here
We're bringing you gorgeous backgrounds for your next conference call.
Bring a piece of Sedona to your next video call.
We're sharing the natural beauty of our Sedona with you, in all its breath-taking splendor. Visit Sedona (virtually) whenever you like, even when you're working from home. #SedonaStrong
SEDONA'S STUNNING SKIES
The sun at play among Sedona's stone formations and monsoon clouds is mesmerizing. The famous red rocks shift to pink, magenta, gold and orange as high desert rains refresh the ancient land each summer - a true bucket list experience.
Photograph by Aime Joy Eden | Follow @aimejoyeden Download file here
PEEK-A-BOO
Sturdy Junipers evince the strength of Sedona's native peoples, whose deeply rooted stories surround us. Today, we invite you to share their values of stewardship, wellness and peace.
Photograph by Ken Behrmann | Follow @ken_ya_diggit Download file here
FEELING SMALL & MIGHTY
The wilderness view from atop Schnebly Hill can power your next zoom meeting –inspiring everyone with the sheer beauty of stunning Sedona. This backdrop will make you feel small and mighty at the same time.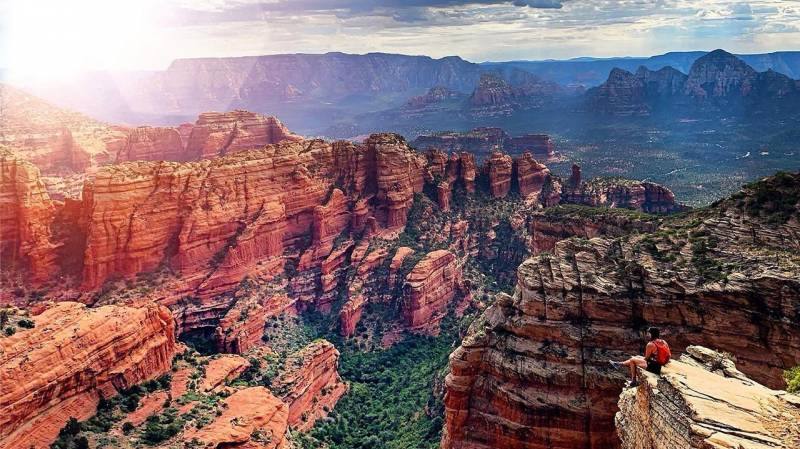 Photograph by AZHoneyBee | Follow @azhoneybee Download file here
COLORS OF SEDONA
Sedona's subtle expression of the seasons will move you deeply. With energy vortexes, healing arts centers, spas and our embrace of the metaphysical— Sedona practically wrote the book on new beginnings. Couldn't we all use a little peace and light right now?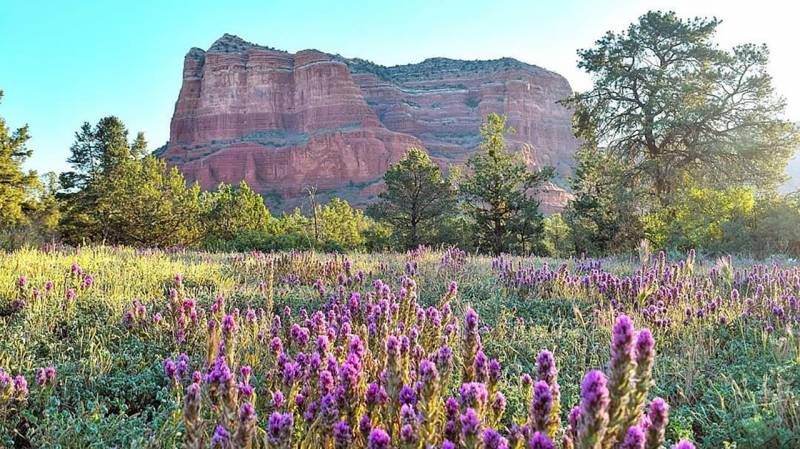 Photograph by Dominik Valdez | Follow @limitlesshorizonsphotography Download file here
CATHEDRAL DAWN
The red rock landscape sprawls across nearly two million acres of national forest and four wilderness areas. Free your mind in our wide open spaces – and find your true passion.
Photograph by Shannon Kelly | Follow @shenanigan70 Download file here
STARS GALORE
Sedona nights bring spine-tingling awe under a glittering blanket of heavenly bodies. Low light levels combine with haze-free, low-humidity desert skies to make Sedona your portal to the universe. Since 2014, we have been an International Dark Sky Community, just the eighth in the world.
Photograph by Being Zen | Follow @being.zen Download file here
Explore Sedona
Explore the lush green valley near one of Sedona's largest monoliths, Courthouse Butte and the towering red rock cliffs of the Mogollon Rim under the blanket of billowing clouds.
Photograph by Lindsay | Follow @linzyharter Download file here
Courthouse Butte
As you enter Sedona, you can take in the sheer size and prominence of Courthouse Butte with its beautiful red sandstone walls standing above the trees and cactus of the high Arizona desert.
Photograph by David Huebner | Follow @digitalzombie Download file here
Red Rock Spires
The epic Cathedral Rock at sunset provides the shade and warmth of red rock spires while wispy clouds drift across the sky.
Photograph by Tom Forbes | Follow @tomforbes Download file here
Lure of Sedona
Find a trail of your own with Sedona Secret 7 and let the land lure you along the path while you savor the peace the surrounds you.
Photograph by Antonia Jane Allan | Follow @antoniajane Download file here
Smoke Trail Ranch
Take in the history of the Smoke Trail Ranch at Red Rock State park complete with gorgeous rust colored views of red rock escarpments and the setting sun on Cathedral Rock.
Photograph by JT Bucaro | Follow @jbucarophotography Download file here
Cathedral Rock at Sunset
Maryanne Bilham captures the powerful Cathedral Rock at sunset with pink and purple billowing clouds preparing for nightfall.
Photograph by Maryanne Bilham | Follow @maryannebilhamphoto Download file here
Hot Air Balloon Ride
Enjoy a breath of fresh air and the rugged red rock landscape as you drift past massive spires, mountains and blue skies.
Photograph by Tracy Buchholz | Follow @tlbtb Download file here
West Fork
The West Fork trail offers jaw-dropping views of towering red canyon walls and dense forest next to tranquil Oak Creek.
Photograph by Alyssa Ball | Follow @adventures.with.alyssa Download file here