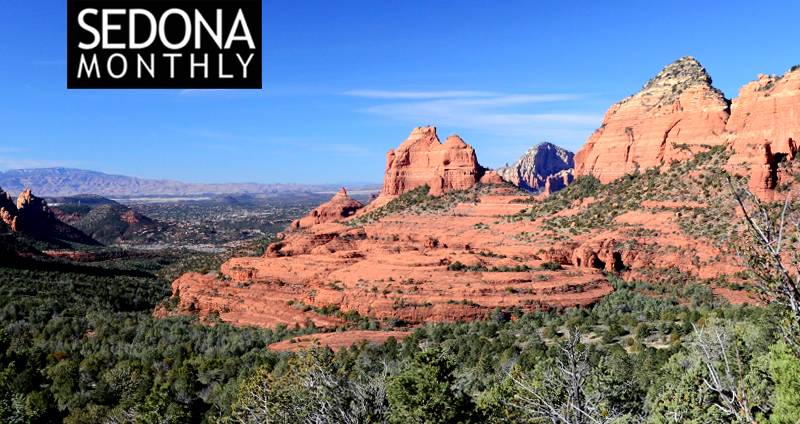 We've hiked this trail in warm weather without a puddle in sight, so we suspect our experience was relatively rare, which made it even more special. Despite a blustery breeze, the scenery made us feel like we were in Hawaii, not Arizona.

We began our hike at the Huckaby/Margs Draw Trailhead on Schnebly Hill Road. Munds Wagon Trail heads east into Bear Wallow Canyon and parallels Schnebly Hill Road, one of the first and most popular cattle trails in the Sedona area. The trail crosses Schnebly Hill Road twice in the first mile; we hiked on a fairly quiet morning, so the jeep traffic (and thus the dust) was almost nonexistent. After hiking 1.11 miles, we came to our first water crossing, much to our surprise. From here on out we boulder-hopped across several washes and came upon at least a dozen waterfalls – some as high as 6 or 7 feet. The sound of rushing water accompanied us the entire way. At 1.39 miles, there's a shaded picnic spot with two concrete picnic benches. A little further on, at 1.91 miles, the Hangover Trail intersects Munds Wagon Trail – stay straight. The trail gently makes its way uphill, crossing patches of slick rock (that lived up to its namesake during our jaunt), passing through forests shaded by juniper trees and offering up stellar views of Mitten Ridge and the Mogollon Rim.


Munds Wagon skirts the base of the Cow Pies formation, and 3 miles from the trailhead, you'll reach the junction of Munds Wagon and Cow Pies Trail. Continue on Munds Wagon and cross Schnebly Hill Road a third time. The trail makes a steeper climb at this point and winds up at Merry-Go-Round Rock 3.5 miles from where you started. At the base of Merry-Go-Round, we were greeted by another cascading waterfall. Munds Wagon continues another half a mile past Merry-Go-Round, but the views were so pretty (and the temperatures so chilly) that we decided to end our hike there. Was our 7-mile hike through a pop-up oasis an exception to the rule? Most likely, but it's a beautiful area no matter the conditions. And if you're lucky enough to have some spare time after the next big rainstorm, we would highly recommend making a beeline for Munds Wagon Trail. That's when a picturesque hike turns into a legendary one.

DIRECTIONS: From the junction of AZ-89A and AZ-179, head south on AZ-179 and turn left on Schnebly Hill Road. Drive 0.8 mile and turn left into the Huckaby/Margs Draw Trailhead. A Red Rock Pass is required for parking. Passes are sold at the trailhead as well as area hotels, visitors centers and convenience stores. There is a restroom at the trailhead.
To learn more about Sedona Monthly visit www.sedonamonthly.com.
Instagram, Twitter & Facebook @SedonaMonthly