March 22, 2017
From well-preserved Native American ruins, to awe-inspiring star gazing and myriad hiking trails with beautiful views, Sedona truly has something for everyone. Whether you're road-tripping from far away or you're a longtime resident of the Grand Canyon State, get the most out of your Sedona visit by packing these eight must-have items.

1. Your camera
Travelers come from all over the world to see natural wonders like Brins Mesa, Cathedral Rock, and Airport Mesa—and that's just to name a few. Be sure to bring your camera so you can snap a few photos of all the beautiful sights Sedona has to offer. But don't spend too much time behind the lens — you'll make the best memories by soaking everything in with your own eyes.

2. An open mind
Other than amazing landscapes, Sedona is perhaps best known for its New Age community that's characterized by alternative approaches to traditional Western practices and culture, particularly regarding spirituality, mysticism, environmentalism, and healing. Not to mention, some say Sedona is the national hotspot for spiritual vortices, which are believed to be sacred spots where energy is either entering or projecting out of the earth. All of this is to say that Sedona is, well, a little different (in a good way!), so make sure to bring an open mind.

3. Plenty of water
Even though Sedona is in Northern Arizona, where the summer temperatures are cooler than cities further south like Phoenix and Tucson, it can still get pretty toasty during the summer. It's important to stay hydrated so you don't suffer a heat-related illness, even if you're spending a lot of your time in the car. There are plenty of smart phone apps available that can send you reminders to drink water and help you keep track of how much you've already consumed. It's a good idea to have one gallon of drinking water per person, just in case.

4. Hiking shoes
There are a ton of trails to enjoy around Sedona, whether you're looking for an easy nature walk or a challenging hike. And of course, proper footwear is key when it comes to both comfort and safety. Hiking boots with a good amount of ankle support are a wise investment if you're going to traverse a lot of rocky terrain. If you don't have hiking boots, athletic shoes with good traction are a decent alternative for easier hikes but should be avoided for more difficult ones.

5. A bathing suit
Arizona is known for its blue skies, and Sedona is no exception—and no summertime road trip is complete without a visit to Slide Rock State Park. True to its name, Slide Rock features a slippery creek bed that functions as a natural waterslide into the creek, not to mention the multiple natural swimming pools within the park. And even if you forget your swimsuit, you can still soak up some sunrays (and gorgeous views) along the rock bed. The park is located just seven miles north of Sedona proper, so the admission price is definitely worth it on a hot day.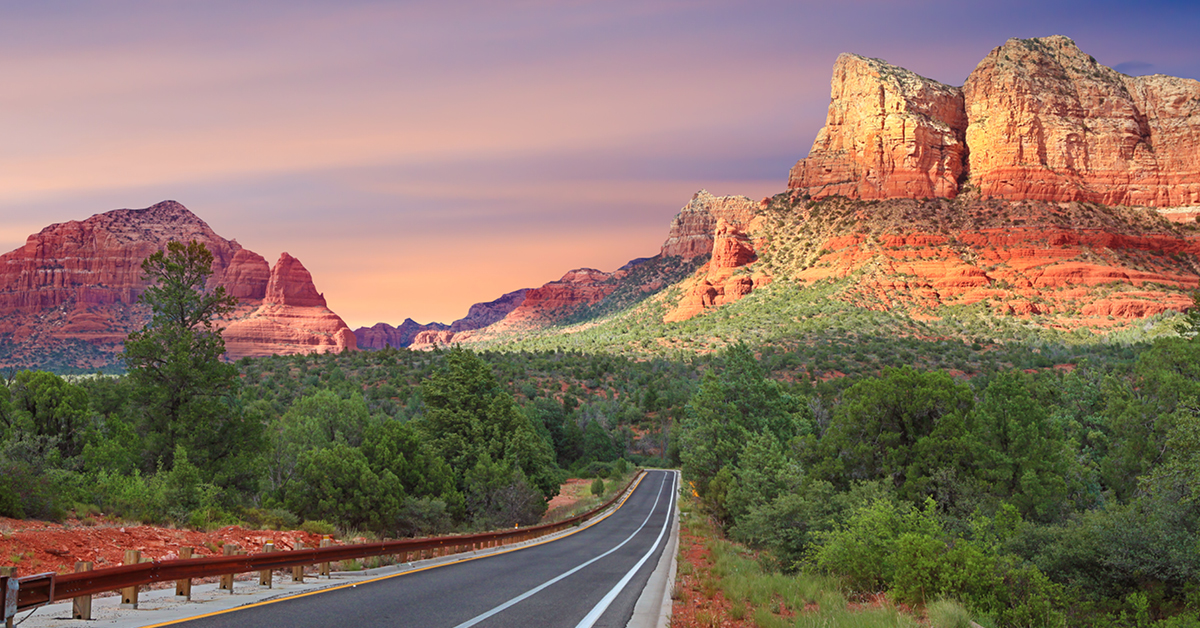 6. A picnic basket
While there are a multitude of great eateries in Sedona, nothing beats the vistas at places like Midgley Bridge Observation Site, Encinoso Picnic Site, and Grasshopper Point Swimming and Picnic Area. Map out your favorite spot and pack a cooler with some picnic-friendly foods so you can eat a bit healthier, stretch your legs, and snap some photos—all in one place. Springtime and autumn tend to have the best picnicking weather, though winters are relatively mild as well, with average temps in the mid-50s.

7. Emergency contact numbers
Make sure you have the emergency numbers you may need if you experience a breakdown, a flat tire, or a lockout. Do you have the number for your insurance company's 24-hour accident claim hotline? It's worthwhile to review your insurance coverage and roadside assistance plan before you leave to ensure you have the right coverage for your road trip, up to date contact numbers, and even paper copies of the info in your glove box.

8. Spending money
If you've factored a bit of shopping into your road trip budget, Sedona will not disappoint. A definite "must" is Tlaquepaque Arts & Crafts Village, which is home to 19 art galleries that feature everything from ceramics to bronze sculptures, blown glass, and other fine art. You'll also find Native American jewelry shops, a store dedicated to music boxes (really!), several clothing boutiques, and plenty of gems, minerals, and crystals, which Sedona is famous for. And if you're hungry, Sedona has some superb restaurants for every budget—check out Senor Bob's Hot Dogs, Red Rock Café, or Indian Gardens Oak Creek Market for some tasty eats.

Megan Pantak is a licensed car insurance agent and content writer located in Phoenix, Arizona. She began her Esurance career in 2012 selling auto policies then changed teams to become one of their star writers. She spends her free time exploring the highways and side roads of Arizona and beyond.